JustOneMorePet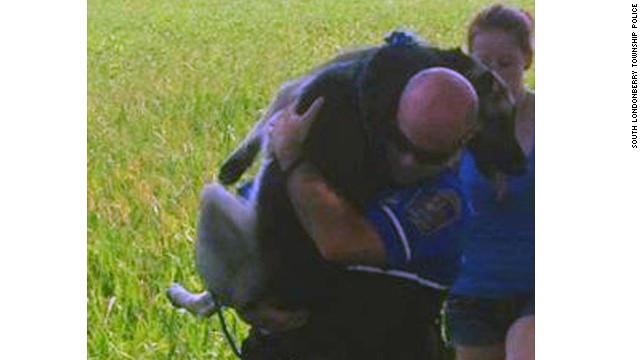 (CNN) — A Pennsylvania patrol officer who chased down a German shepherd following a car accident is being called a hero by some. A photo of officer Nick Ague carrying the 75-pound dog over his shoulder was posted to the South Londonderry Township Police Facebook page on Sunday getting more than 6,000 "likes" and 1,300 "shares." In the comments people praise Ague's compassion for animals and thank him for his dedication.
Despite the sudden Internet fame, Ague is "keeping a level head," said fellow patrolman Scott Firestone.
On Sunday, Ague responded to an accident involving at least one vehicle in Palmyra, the department posted on Facebook. Two dogs in the vehicle escaped. One was captured right away but Mya, the German shepherd, began running, Firestone said.
Ague, himself a dog owner, gave chase. Mya and Ague continued running for about two miles, Firestone said. When Mya finally came…
View original post 129 more words